Executive Honda Receives CARFAX Top-Rated Dealer Award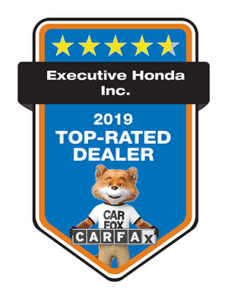 At The Executive Group, it's our goal to provide customers with the absolute best car-buying experience possible. Our priority is to help you find the vehicle that best meets your needs rather than just making a sale. At Executive Honda, there is no need to haggle or negotiate prices – our Best Price Guarantee gives you 110% of the difference back if you get a lower price. The Executive Way involves putting you first at all points during vehicle ownership, and we are proud to continually bring our customers the dedicated service and customer care they expect. Our customers have noticed and have consistently given Executive Honda glowing reviews, both on our website and on third-party sites like CARFAX and Google. 
Now, Executive Auto Group is excited to announce that Executive Honda Inc has received the Inaugural CARFAX Top-Rated Dealer award for 2019! Only a select group of dealers are recognized as a CARFAX Top-Rated Dealer, so this is an honor for Executive Honda. We couldn't have accomplished this without you, our loyal customers.
CARFAX owns the world's largest vehicle history database. It has over a million verified customer reviews. "These are verified ratings from real consumers," said Scott Fredericks, CARFAX Vice President of Marketing. "These ratings help other shoppers feel confident about choosing where to take their business. This exclusive group of top-rated dealers is setting the standard for service."
These ratings are then used to determine the CARFAX Top-Rated Dealers for that year. Stores are only designated as a Top-Rated Dealer if they have an average of 4.7 out of 5 stars. We're grateful for our customers' reviews and hope to keep receiving these exceptional ratings and be your Top-Rated Dealer for years to come.
Here at Executive Honda, we want to make sure all customers leave satisfied and this CARFAX Top-Rated Dealer award proves we are achieving that goal.